Bodacious Body Scrub
Made from various salts, our body scrub gently exfoliates and leaves your skin clean and smooth.
60ml-15$* travel size
120ml-25$
Natural Shave Lotion
One of our favourite products due to its pure simplicity. With only three ingredients, this shave lotion gives you a close shave and leaves your legs smooth without clogging your razor or your pores.
A small amount goes a long way but don't expect a lot of lather. Shake well each time before using.
100ml-$15*
travel size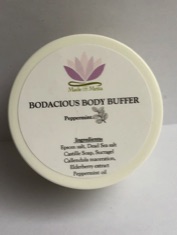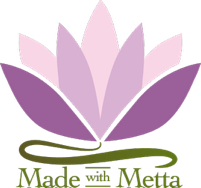 If you use nothing else in your daily life, you should at least use these products.
Everyday our bodies are bombarded with pollution: noise pollution, air pollution, even pollution in our foods!
Our lives are filled with chemicals.
Why not make small changes where you can?
Made with Metta's products are all naturally sourced and chemical free so you can feel good about using products that naturally soothe, heal and indulge your body and are kind to the earth as well.
Better Body Butter
Made with Metta's creamy body butter will make your skin feel silky smooth.
The carefree coconut scent will make you feel like every day is a day at the beach!
Don't like coconut? No problem! We can customize the scent just for you or leave it unscented for those that aren't keen on smells.
This Body Butter is best used on freshly washed skin just out of the shower, or at night just before bed.
We can even add some shimmer for those who like a little extra sparkle!**
60ml-$15* 120ml-$25*
travel size
Muscle Mender
Did you work out too hard at the gym? Turned your head too fast and pulled a muscle in your neck? Just feeling tired and sore?
Try our Medicinal Muscle Mender.
The active ingredients of menthol and camphor work with the other ingredients to give this balm the strength to soak deep and sooth your aches and pains.
60ml- $20 travel size
120ml-$30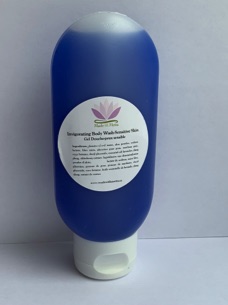 Invigoration Body Wash
Using the amazing assets of Aloe, this shower gel respects the skin while gently cleansing and moisturizing.
Soothing Aloe Vera oil is absorbed into the skin quickly and easily. The healing qualities inherent to Aloe Vera have antioxidant properties and are known to treat common skin problems such as psoriasis, eczema, and rashes.
The mild scents of Lavender and Ylang Ylang are easy on the senses while the Eucalyptus revitalizes.
The perfect shower gel whether you're just waking up or winding down after a long day.
120ml-$15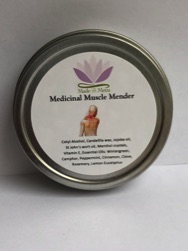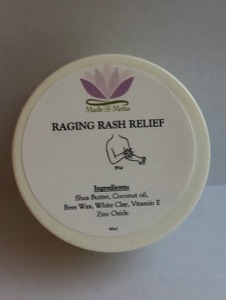 Raging Rash Relief-Itch Relief Cream
It happens all the time. We get a little rash or a bite and it gets itchy and swollen. Raging Rash Relief cream works quickly and stops the itch on contact.
Great to have on hand on hand in case of incident. Mild enough to use on infants and toddlers as well.
15ml-$15-pocket size
60ml-$20-travel size
120ml-$30